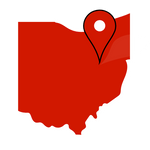 Did you know that Ohio technically wasn't an official state until 1953? President Thomas Jefferson signed bill admitting Ohio on February 19, 1803, but the first legislature did not meet until March 1, 1803, yet overlooked passing legislation for statehood. August 7, 1953, the Ohio legislature corrected the fact that they had never legalized statehood and backdated the states acceptance into the union.
This somewhat odd entrance speaks truly to the uniqueness of the history and landmarks across the state of Ohio. As we were developing our latest coffee blend, the Ohio Proud, we started thinking about all of the things that make Ohio interesting and wanted to share some of our favorites with you!
How Many Presidents?
Of the eight U.S. Presidents to come from Ohio, only one (Ulysses S. Grant) served two full terms, and four died in office. William Henry Harrison held the shortest term of any president, dying of pneumonia just 32 days after getting into office. The seven other presidents from Ohio were Ulysses S. Grant, Rutherford B. Hayes, James Garfield (assassinated while in office), Benjamin Harrison, William McKinley (assassinated), William H. Taft and Warren G. Harding (died of a stroke in office).
Mounds on Mounds on Mounds
Ancient tribes of "Mound Builders" left more than 6,000 burial mounds and forts throughout the Ohio region. The Miamisburg Mound is the largest conical burial mound in the state and possibly in the eastern United States, while The Great Serpent Mound also attracts visitors from across the country.
The Hell is Real Sign
South of Columbus, in the city limits of Mt. Sterling, Ohio, there's a sign just off Interstate 71 clear to anyone driving from Ohio's capital toward Cincinnati. It was erected by a real-estate developer from Kentucky named Jimmy Harston nearly 30 years ago - and is joked about all the time between native Ohioans and those just passing through.
Pro Football Hall of Fame
A lot of people wonder "of all places, why Canton?" Well… here's the explanation. The NFL was actually founded in Canton, Ohio on September 17, 1920, (at that time it was known as the American Professional Football Association) and the the now-defunct Canton Bulldogs were a successful pro football team and the NFL's first repeat champion (in 1922 and 1923). The Hall of Fame Balloon Festival and Parade attract thousands of people from around the country every year.
Headlands Beach State Park
Ohio opened originally opened this park under the name Painesville Beach State Park in 1953, but changed its name changed to Headlands Beach two years later. The park features a 35-acre beach (the longest beach natural beach in Ohio) for sunbathing, swimming, and beach glass hunting along with picnicking facilities and seasonal concessionaire.
Ohio Coffee! 
We are proud to call Ohio our home! Thus we have dedicated our newest blend of coffee to the great state! Check out our Ohio Proud Coffee!
Want to experience all of the coffee we have to offer? Schedule a
coffee tasting
today! Not only do you get to try some
great coffee
, you also get to know where our coffee comes from and how we roast it to perfection!