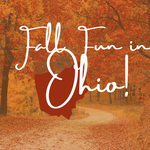 Fall is coming up quickly here in Ohio. Are you (or your loved ones) looking for ways to have fun this fall? Fall is one of our favorite seasons here in Ohio because with fall comes things like apple picking, football games, and cool mornings. Mostly because the cool Ohio fall mornings are PERFECT for a hot cup of coffee to wake you up.
Here are some of our favorite fall activities, so you can have just as much fun as we do!
Arrowhead Orchard
:
September 2 - October 31 (Mondays & Fridays-Sundays)
This fall, enjoy fresh air, sunshine and fun on the farm at Arrowhead Orchard. Enjoy a hay ride through the farm with special stops for apple picking, visits to the pumpkin patch and a walk through the sunflower field! 
Be sure to stop at the Apple Cannons this year and shoot down your favorite targets, navigate through the 2 acre corn maze for children and adults, or head to the smaller grass maze which is perfect for younger children.
Play all day in the HUGE outdoor play area that includes a hay mountain, fort delicious slides, hamster run, apple train, corn pit, pedal car track, children's zip-line (adults included), obstacle course and more!!
Stop by the apple farm market and pick up some delicious treats to take home and enjoy! Admission is $10 per youth (3 to 17 years), $7 per adult, 2 years and under are free. They also offer season passes if you live nearby and want to go more than a single weekend.
Call (330) 614-29473 or visit www.ArrowheadOrchard.com for more details
Yankee Pedler:
September 10-11, 17-18 and 24-25
The Yankee Pedler festival examines life between the years 1776-1825.  All of our crafters and vendors are required to dress in year appropriate attire at all times.  They must exhibit all three weekends and demonstrate a minimum 50% of the time.  Artisans and crafters are expected to provide educational displays and written histories of their crafts.
Guests will enjoy seventy-five acres of entertainment for the whole family at the 49th annual Yankee Peddler Festival. Town criers update festival goers with events happening on the fairgrounds throughout the day. Visit with the militia and mountain men, or learn crafts with hands-on instruction. Visit with the master crafters and artists while they demonstrate the way they transform nature into something unique for you and yours. Click here for more information and to pre-order your tickets.
Ohio Coffee Festival:
Saturday September 24th and Sunday September 25th!
The Columbus Coffee Festival takes place each year at Ohio Village, the last weekend in September. Coffee roasters from all around the state come together to celebrate their artistry and showcase their coffees.
If you're a coffee fanatic looking for a fun weekend, come say hi to Terry and Peggy as they take Cherry Blend Coffee Roasters on the road for the weekend. Tickets range from $20 to $40 depending on if you want to come for one day or both days. Each ticket includes an exclusive coffee festival mug, all coffee sampling and additional free activities and entertainment.
The Ohio Coffee Festival is hosted at Ohio Village in a recreated living history museum of 19th century life, and operated by the Ohio History Connection. The charm of the village gives it the feel of times past, and contains a Town Hall, a Bicycle Shop, and Lodging House all of which sets the stage for a weekend of coffee samples.
Can't wait until the coffee festival?