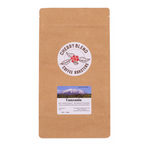 We are passionate about coffee at Cherry Blend Coffee Roasters in Canton, Ohio. Our dedication to quality and sustainability drives us to source unique coffee selections from around the world, and one of our favorites is Tanzania coffee sourced from Balzac Brothers.

Balzac Brothers, Inc., has been importing fine green coffees from around the globe for over 100 years. Founded in 1917 by Richard and Ralph Balzac, Balzac Bros. represents four generations of family tradition and continues to provide coffee roasters in the United States and Canada with service excellence unsurpassed in the industry. 

But it's not just about the taste for us - we are also committed to sustainability and ethical sourcing practices. Balzac Brothers work closely with coffee farmers in Tanzania to ensure fair wages and safe working conditions. They also provide training and resources to help farmers improve the quality of their coffee, which not only benefits the farmers but also results in better coffee for us to roast and brew. 

At Cherry Blend Coffee Roasters, we are proud to support Balzac Brothers and the farmers in Tanzania who work hard to produce exceptional coffee. We roast our Tanzania coffee beans to perfection, bringing out the best flavors and aromas. When you sip on a cup of our Tanzania coffee, you can taste the passion and dedication that went into every step of the process.

In addition to our Tanzania coffee, we offer a wide variety of other single-origin and blended coffees from around the world. If you'd like to spend a Saturday morning with friends learning about the ins-and-outs of coffee roasting while getting to sample our wide variety of coffees, register here!

At Cherry Blend Coffee Roasters, we believe that great coffee starts with great beans, and our passion for coffee is reflected in every cup we serve. Visit us and taste the difference that quality, sustainability, and ethical sourcing practices make in our Tanzania coffee and all of our other offerings.