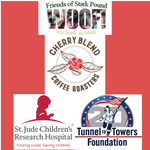 At Cherry Blend Coffee Roasters, we think it's important to give back to the community. We decided at the beginning of 2023 that we would support three separate charities this year. 
Our three charities that we will support this year include the, Friends of Stark Dog Pound, Tunnels to Towers and St. Jude Childrens Cancer Reserch and Hospital.
To help you understand more about why we here at Cherry Blend Coffee Roasters are so passionate about these three charities, let us tell you a little bit about each of them.

First up is The Friends of the Stark County Dog Pound. The mission of the Friends of the Stark County Dog Pound is to support and enhance the programs and services provided by the Stark County Dog Pound. The organization works to improve the lives of the dogs in the pound's care by providing funding for veterinary care, enrichment programs, and adoption events. The Friends of the Stark County Dog Pound also promotes responsible pet ownership and works to educate the community about the importance of supporting their local animal shelter. Through their efforts, the Friends of the Stark County Dog Pound strives to create a brighter future for all dogs in the community.

Tunnel to Towers is a non-profit organization dedicated to honoring the legacy of fallen firefighter Stephen Siller and supporting first responders and military service members. It was founded in memory of Siller, who died during the 9/11 terrorist attacks while attempting to rescue victims. The organization's mission is to support and assist those who sacrifice their safety to protect and save lives. This includes providing financial assistance to families of first responders and military service members who have been injured or killed in the line of duty, building adaptive homes for injured veterans, and supporting education and training programs for firefighters and first responders. Tunnel to Towers is committed to honoring the bravery and sacrifice of those who put their lives on the line for others, and it continues to make a positive impact on the lives of those it serves.

St. Jude Children's Research Hospital is a leading pediatric treatment and research center dedicated to finding cures for childhood cancers and other life-threatening diseases. It was founded in 1962 by Danny Thomas and is located in Memphis, Tennessee. The hospital is known for its innovative and cutting-edge research and treatments, and it offers its services to children and families free of charge. St. Jude is a leader in the field of pediatric cancer research and has made many groundbreaking discoveries that have improved the survival rate for children with cancer. The hospital continues to work tirelessly to find a cure and improve the lives of children and families affected by these diseases.

Come in and visit Cherry Blend Coffee Roasters any day of the week if you want to support the above causes. We believe in them, and we think you should too.