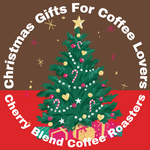 It can be hard to buy Christmas gifts for coffee lovers. If you have someone in your life that absolutely loves their coffee, we know what thats like. It can be hard to buy them actual coffee, because they know exactly what they like. They've probably been drinking the same brand for years! 
That's why we decided to list out some of our favorite non-coffee accessories that we know every coffee lover would appreciate. A little over a year ago, we partnered with BruTrek because their products are a coffee lovers dream. Picture Yeti quality drinkware, with the capabilities of a french press. 
Let's dive in!
The original Airscape®
features a patented plunger lid designed to fit snugly against the inside of the canister. In addition to the seal, as the lid is pressed down into the canister, a two way valve allows excess oxygen to escape the canister. Once the lid is pressed snugly against the top of the contents in the container, you can flip the handle down to close the valve and prevent any further oxygen exchange. 
This device drastically increases the shelf life of coffee beans (whole or ground) and helps maintain the integrity of the coffee's flavor as well.
Capacity:
Holds 1lb/500gr whole bean coffee

Measures: 5″ w x 7″ h
Features:
Brushed steel, gloss paint, or smooth matte painted exterior finish

Hand wash recommended (especially for inner Airscape® lid)

18/8 restaurant grade stainless steel body

Rubber padded bottom

BPA-free components

Food safe
Next in our line up is a product that is perfect for our hikers, campers, and outdoor workers. The BruTrek Basecamp is a travel press designed to brew bulk french pressed coffee anywhere. It's patented BruStop™ technology delivers a smooth brew that is true to the intended flavor of the beans along with a threaded lid that helps retain heat and prevent spillage.
Capacity:
Brews 32 fl.oz. 

Measures 6.5″ x 4.5″ x 9.5″
Features:
Patented Bru Stop™ press technology halts the extraction process once fully pressed down to prevent bitter tasting coffee, and grounds in your cup!

Stainless steel body, plastic top lid, plastic press-screen form with fine mesh metal screen and metal Bru Stop™ plate

Bru Stop™ press assembly can be dis-assembled for easy cleaning

Screw on top lid with latch to prevent spills and retain heat

Double wall, vacuum insulated stainless steel body

Rugged & durable with rubber-grip handle

BPA-free lid & inner components

Padded rubber bottom base

Keep your bru hot for hours!
Know anyone that wishes they could take their french press on the road with them? Well, now they can! With the BruTrek Double Shot 3.0 Travel Press, your coffee lover can store ground coffee in the bottom of their mug with the integrated storage canister. 
We guarantee that the double-wall vacuum insulated mug will keep your coffee fresh for your entire work day or road trip. Plus the integrated storage container is perfect for coffee, tea-bags, or even snacks!
Capacity:
Brews 16 fl.oz. 
Features:
18/8 restaurant grade stainless steel body, plastic screen frame, fine mesh metal screen and metal Bru Stop™ plate, metal press rod and plastic top lid

Integrated, screw-on bottom storage container to store enough coffee grounds for an extra cup (or two!)

Spill-proof locking lid for heat retention

Double-wall, vacuum-insulated body

All plastic components are BPA-free

Durable matte, textured paint finish

Rubber padded base
If you're less concerned with carrying fresh coffee grounds with you, and just want more coffee, the new 20oz Steel Toe 3.0 coffee press has everything you need to brew a perfect french pressed cup of coffee wherever you are.
The BruTrek 20 oz Steel Toe 3.0 coffee press has everything you need (and nothing you don't) to brew your perfect cup of coffee wherever and whenever. Similar in construction to all of our other products, this ultra-durable, double-wall, vacuum-insulated, stainless steel mug is outfitted with a spill-proof, locking lid.
The Steel Toe 3.0 brews a great cup of hot coffee, tea, or overnight cold brew. If you're really feeling adventurous, we've also found that it serves well as a happy hour beer stein. 
Capacity: 
Brews 20 fl.oz.
Features:
18/8 restaurant grade stainless steel body, plastic screen frame, fine mesh metal screen and metal Bru Stop™ plate, metal press rod and plastic top lid

Spill-proof locking lid for heat retention

Double-wall, vacuum-insulated body

All plastic components are BPA-free

Durable matte, textured paint finish

Rubber padded base