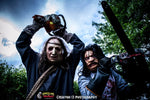 It's time for tricks (or treats) here in Stark County! When we were thinking about some of our favorite things to do for Halloween (besides drinking coffee, as always) haunted houses came up in conversation. Did you know that Canton, OH is home to a three time world record holder of the "Longest Indoor Haunted Attraction in the World" award? That's why this month, we're going to give you our top 3 haunted houses in Stark County!
The Carnival of Horrors at the Stark County Fairgrounds. 
The Carnival of Horrors at the Stark County Fairgrounds is open Friday, Saturday and Sunday starting at 7:30pm throughout the month of October. Prepare yourself to embark on a journey through four separate haunted houses.
The first house is called the "Fun-House," which is focused on eerie music and guiding you through an old abandoned home. This in a high-intesity jump scare style house that is sure to have your adrenaline pumping by the end of the journey.
Next, you'll travel deep into the Trail of Terror, armed with only a flashlight. The goal is to make it through the maze while encountering ghouls, goblins, and the like in the dark corners of the path. Will you be able to make it through in one piece?
Following your emergence from the Trail of Terror, you'll be admitted into our Insane Asylum. The psychopaths that roam the halls of this abandoned mental hospital can be unpredictable, so watch your back! This labyrinth is full of dead ends and rooms with no exits. Can you handle being locked in with the patients? 
Finally, your mind will be blown when you enter the Freakshow in 3-D Terrorvision. This attraction brings the room you're in to life in a 3-D experience that will leave you jumping out of your jacket. Think you can avoid being surprised because of your 3-D vision, think again! 
Fortress of Fear ScreamPark in Alliance, OH
Awarded a top rated attraction award in 2019 by Ohio Haunted Houses, the Fortress of Fear ScreamPark is located in the haunted woods on the outskirts of Alliance, Ohio. These fortress ruins have haunted excavators for centuries. As excavation continues, they keep unearthing more and more paranormal activity - which leaves onlookers questioning whether or not its possible for it to get even scarier every year.
This year, we are adding the Zombie Abomination attraction, which is an immersive experience where you'll suit up and be armed with a Gellyball weapon to defend yourself against the zombie hoards.
If you're scared of clowns, the ScreamPark might be the last place you want to go… if you're too scared. At our Freak Show, you'll step right up and be frightened by our terrorizing clowns and other circus freaks just DYING to have the chance to invite you into their world. Between the haunted bumper cars and our Tilt-A-Hurl, there is sure to be something that the entire family will have a spooky (but fantastic) experience.
The Factory of Terror in Canton, OH
Remember that we mentioned Stark County was home to a multi-time Guiness Book of World Records holder? Well, here we are. Welcome to the Factory of Terror located off of Mahoning Rd in Canton. Housed in a 160,000sqft facility, the Factory of Terror features themed bars in-between every haunted attraction.
The Factory of Terror is a place that isn't intended for families with young children (under twelve) as it is considered an "extreme haunt" rather than a singular experience with breaks inbetween. Once you enter the building, there's no turning back. For the next few hours, you will be immersed in our set with haunted ghouls and maniacs greeting you inbetween each haunted house.
Between each haunted attraction, there is a themed bar featuring drinks specific to the theme as well as custom build atmospheres and spaces to relax and enjoy a beverage between houses. The Zombie Bar Crawl is available on Friday and Saturday nights throughout the month of October.
Throughout your journey, you'll encounter actors, water effects, claustrophobic spaces, smoke, strobes, and 3-D tunnels with moving walls. Please be sure to check out their website for more information on all of the pieces of the attraction to ensure that it is safe for you to attend prior to arrival.
The Cherry Blend Top Pick
The
Cherry Blend Coffee Roasters
go-to haunted house in Stark County would be the
Factory of Terror
off of Mahoning Road in Canton. Between the large square footage of the attraction and the themed bars between sets, it's hard to beat; however, it is definitely worth noting that small children are not recommended at that location. If you're looking for a more "family friendly" location, we would recommend the ScreamPark in Alliance as it features attractions like bumper cars that are fit for the whole family to have a blast.