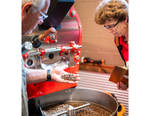 Cherry Blend Coffee Roasters is a family-owned and operated business located in Canton, Ohio. They are dedicated to sourcing and roasting high-quality, ethically-sourced coffee beans to provide the perfect cup of coffee to their customers. 
One of the things that sets Cherry Blend Coffee Roasters apart is their commitment to sourcing the best beans from around the world. They work directly with farmers and cooperatives to ensure that the beans they use are grown and harvested in an ethical and sustainable manner. This means that not only are you getting a great cup of coffee, but you can also feel good about supporting a company that values the well-being of the farmers and the environment.
Another unique aspect of Cherry Blend Coffee Roasters is their focus on small-batch roasting. They carefully roast each batch of beans to bring out the unique flavors and characteristics of each bean. This allows them to offer a wide variety of coffee blends and single origin options for customers to choose from.
Coffee isn't the only thing that Cherry Blend Coffee Roasters offers. Cherry Blend is also very intentional about offering a variety of coffee accessories, including BruTrek mugs and accessories like storage containers to help customers have a seamless coffee experience at home - from storage to sip. They also host regular tastings and attend dozens of craft shows and festivals to help customers learn more about coffee and the different brewing methods.
Being a family owned business, Cherry Blend Coffee Roasters prides themselves on their excellent customer service. They are always happy to answer questions and provide recommendations to help customers find the perfect coffee for their taste preferences. Just give us a call at (330) 483-5297 and we'd be happy to help!
Cherry Blend Coffee Roasters is a fantastic choice for coffee lovers in Canton, Ohio, and beyond. Their commitment to sourcing and roasting high-quality, ethically-sourced beans, small-batch roasting, and excellent customer service make them a standout in the industry. If you're looking for a great cup of coffee and a company that values sustainability and community, give Cherry Blend Coffee Roasters a try.