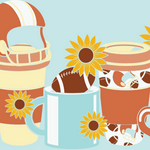 It's officially fall here in the great state of Ohio. The Ohio State Buckeyes are back in The Shoe and the Cleveland Browns are on the field at the stadium on the lake. Fall festivities are happening all over the state, and cider is flowing out of taps. We love the state of Ohio and decided to show our pride with a Cherry Blend exclusive blend called "Ohio Proud."
Our Ohio Proud is chocolaty and nutty!  A medium roasted blend. Smooth flavor and is perfect for a warm-up. We created "Ohio Proud, in support of our Ohio Department of Agriculture which supports local farmers. It also is called Ohio Proud! 
Ohio has a lot to offer, from the Great Lakes to fertile farm fields, we're proud of our agriculture, business development, and sports. We grew up following the Cleveland Browns and Ohio State Buckeyes with an intense sense of supporting one another! We also believe in developing a relationship with our neighbors. 
Did you know that Ohio was the 17th state admitted to the Union in 1803? 
There's a monument right here in Canton in honor of US President William McKinley, who was born right here in Canton, Ohio. Having US Presidents, movie stars, and national leaders from all across the state gives us a deep history. From the fields to the friendly neighborhoods, we know that each and every one of us Ohioans shares a story. 
If you love Coffee and love Ohio, you should join us at the 8th annual Columbus Coffee Festival takes place on Sept 23 & 24, 2023. Over 7,000 guests will enjoy two days of coffee sampling, food trucks, live music, entertainment, and much more! Learn more about the event and buy your tickets by clicking here.
** Freshness Recommendation **
Whole-bean coffee normally maintains its freshness for about two months.  Ground coffee usually is best if used within two to three weeks.
If you'd like to visit us in person, you can find us at 1003 Cherry Ave NE in Canton, Ohio. We're minutes away from Centennial Plaza - just look for the neon sign as you're leaving downtown and headed north on Cherry Ave!