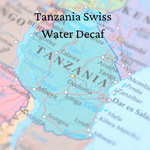 ​​Cherry Blend Coffee Roasters is a locally owned and operated coffee roaster located in Canton, Ohio. If you're looking for expertly roasted coffee for your home or office you've come to the right place. On top of having the option of buying coffee directly from the roastery, Cherry Blend also has an online store where you can purchase their locally roasted coffee and have it shipped anywhere across the country. They pride themselves on the quality of the coffee that they source, and their meticulous attention to detail during the roasting process.
If you're looking for a good decaf coffee, look no further than The Tanzania Swiss Water Decaf. Grown on the southern slopes of Mount Kilimanjaro, this agricultural paradise has the ideal growing conditions for exceptional coffees. With volcanic soil, indigenous shade trees, and glacier-fed rivers Mount Kilimanjaro Coffee Farms thrive.
Good Decaf coffee can be hard to find, which is why we're so passionate about making good decaf coffee here at Cherry Blend Coffee Roasters. The farms where we source our coffee from at the base of Mount Kilimanjaro focus on the health of not only their coffees but their community as well.
Employees of the coffee farm are offered medical care, insurance, retirement plans for long-term employees, HIV training and testing, scholarships for local schools, and large investments in community projects. Mount Kilimanjaro strives to harmonize coffee quality, people, and the environment.
There are many ways to prepare a great cup of coffee, depending on your preferences. Common preparations that we've heard work well for this type of coffee include Drip, French Roast, Aeropress, Pour over, and Espresso.
Notes: Red Apple, Orange, Graham Cracker,Honey, Black Tea, Chocalate, & Lemon 
** Freshness Recommendation **
Whole-bean coffee normally maintains its freshness for about two months.  Ground coffee usually is best if used within two to three weeks.
If you'd like to visit us in person, you can find us at 1003 Cherry Ave NE in Canton, Ohio. We're minutes away from Centennial Plaza - just look for the neon sign as you're leaving downtown and headed north on Cherry Ave!