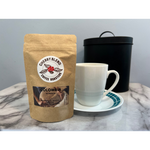 On Cherry Ave, in the heart of Canton, Ohio there is a coffee roastery called Cherry Blend Coffee Roasters. Multiple times a week the smell of freshly roasted coffee beans fills the air around our local roastery as we fulfill our commitment to transforming ethically sourced beans into extraordinary flavors. In this blog, we will be discussing some of the key ways that we ensure our beans are of the absolute highest quality.
Small-Batch Roasting: Unlike large commercial coffee roasters, we take pride in roasting our coffee beans in small batches. This approach allows us to take a more personalized approach to each batch, ensuring that each type of bean is taken care of and roasted consistently.
Profile Roasting: Roasting is far from applying the same temperature for the same amount of time during every batch. It is a highly nuanced process that varies depending on the profile of the bean we roast. Our roasters custom tailor the temperature and time to each bean's profile - thus unlocking their full potential.
Quality Sourcing: You can have as tailored of a roasting process as you like, but if your beans are terrible quality there is only so much you can do. Our beans are sourced from Balzac Brothers, a woman-owned fourth-generation company, and are some of the highest-quality coffee beans you can purchase from around the globe. 
Continuous Learning: Our roasting process here at Cherry Blend Coffee Roasters is a journey of constant learning. Our coffee roasters are constantly traveling to visit other roasteries, taking educational courses, and attending workshops to continuously refine our methods. We take pride in our roasting process and are committed to providing you with an amazing product each and every time. 
Every year we get invited back to festival after festival - from Cleveland to Columbus. We also have customers drinking Cherry Blend Coffee Roaster's coffee across the country. Each time you open a bag of our freshly roasted coffee you'll be able to tell how much effort was put into each bean. 
If you're curious to learn more about how to select a bean with the perfect flavor profile for you, give us a call at (330) 483-5297 and we will gladly help you pick the perfect coffee for you!