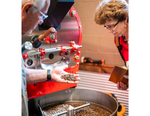 Multiple times a week the roasters at Cherry Blend Coffee Roasters fire up, and the smell of roasted beans wafts through the air in Canton, Ohio. The owners, Terry and Peggy Miller, are coffee enthusiasts and understand that the journey from freshly roasted beans to pouring a cup is an important one. In this guide, we will dive into how to make sure you're making the most of every sip.
Choose Your Coffee Bean: The base of a great cup of coffee lies in the flavor profile of the bean you select. Most people recognize the "Light, Medium, and Dark" roasts, but there are many more factors that influence the flavor of the bean. Some beans have notes of caramel while others have more of a fruity flavor. To learn more, give us a call at (330) 483-5297 and we'll happily assist you in selecting a bean based on your flavor preferences.
Invest in a Good Grinder: When you purchase a grinder, ensure that you purchase one that is labeled as a "burr" grinder. Rather than chopping the beans with high-speed blades, these grinders crush the beans and preserve more of the optimal flavors and aromas without causing waste.  
Try Different Brewing Methods: Depending on how much time you have, and how much coffee you're looking to make - the brewing process can vary drastically. For example, a pour-over takes more preparation and may be perfect for a single cup while a drip coffee maker is more useful when making a full pot of coffee.
Pay Attention to Water Quality: As coffee is mostly water, the quality of the water you use will change the flavor of the coffee. Use clean, filtered water that is free from impurities (like iron and other minerals common in Ohio), as this will alter your flavor profile.
Taste and Adjust: The beautiful thing about coffee is that it is so versatile. Between brewing methods, water temperature, grind types, and bean flavor profiles - there are virtually limitless combinations to experiment with.
Storage Matters: We recommend storing your beans in airtight containers, like the AirScape, to prevent the beans from getting stale. Freshly roasted coffee is best enjoyed within three weeks of roasting.
Learn From Local Roasters: Being in Stark County, you're fortunate to have access to multiple local coffee shops and roasters. If you stop in our shop, located in Canton, we will gladly help you understand more about bean selection, brewing and answer any other questions you have about artisan coffee.
As you begin exploring purchasing freshly roasted coffee, remember that you won't get it perfect on the first bag you purchase. Each cup, brewing method, and locally roasted bean is an experiment. We're happy to help however we can!
If you'd like to explore our current coffee selection: Click Here

If you'd like to explore all of our coffee enthusiast accessories (like insulated mugs, airtight containers, etc): Click Here