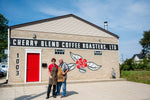 It's been another amazing year here at Cherry Blend Coffee Roasters. 2022 brought a lot of changes, and its fair share of difficulties, but it also brought so many new friends into our lives and we're proud to remain the only full time dedicated coffee roasting company in Canton, Ohio.
As we reflected on this past year, Peggy and I started to think about all of the places across the state that we visited, like the Great Trails Festival or the Columbus Coffee Festival. Each festival draws its own unique crowd and passionate group of people, and between those two events alone, we met thousands of people who are all equally as passionate about coffee as we are. 
In order to keep up with our growing demand, we purchased an all new Dietrich roaster this year, making us the only roaster in our local area with two full-time coffee bean roasting machines! Those two Dietrich roasters allowed us to pump out 8,000+lbs of roasted-to-perfection coffee beans that eventually made it into the cups of thousands of our loyal customers across the thirty nine states we shipped to across the country this year.

Despite all of this amazing growth, we've stayed true to our promise of freshness, and we always will. Every single bag of coffee sold through Cherry Blend Coffee Roasters is only 1-2wks from its original roast date. This ensures a perfect balance between having a bean that is fresh from the roaster, and a bean that has had the proper amount of time to "degas" before making it into your cup. If you've ever experienced heartburn from a cup of coffee, it could be because whoever you purchased it from did not take into account the need for a bean to "degas" before being sold. 
Degassing is the process by which you allow Carbon Dioxide to release from the freshly roasted bean over the course of a week or so, to prevent that carbon dioxide from showing up as a tiny bubble in your coffee mug. Carbon Dioxide makes everything more acidic, can really ruin the taste of a great bean and can cause issues in the gut if consumed. We make sure to give every batch we roast the proper amount of "degassing" time prior to shipping them to your door. We've been told multiple times by customers this year that before drinking Cherry Blend, they could never picture drinking "black coffee" because they've always used heavy amounts of cream and sugar, but after trying our roasts and realizing coffee isn't meant to taste super acidic and bitter - they've cut back substantially on the things they add to a morning cup-o-brew.

It's humbling most days to walk around our roastery with two roasting machines and enough shipping boxes that we almost put UPS to shame. At one point, our roastery was our warehouse for our painting business Tegray, where we painted full time for over twenty seven years. Now, thanks to all of you, this building that takes up one square block of the city of Canton, OH has become home to thousands of pounds of coffee.
Thank you for all of your support in 2022, and we look forward to having the opportunity to continue bringing you best in class coffee in 2023.

Happy Holidays!
Terry and Peggy Miller, Owners