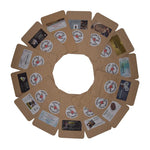 At Cherry Blend Coffee Roasters we love introducing you to new flavors of coffee, which is exactly why we created our Sample Pack. Each sample pack contains a 2 oz. sample bag of each of the 14 coffees that we sell. Each bag has a resealable ziploc top, to ensure that even if you open the bag, you're able to reseal it to maintain freshness.
 
In our sample box, we made sure to include quite the variety of flavors, ranging from single beans (also known as single origin) all the way through our specialty blends. Our blends were created over months of combining different single origin coffees and experimentation with different roasting processes. At the end of the day, we created seven unique blends to pair with our seven single origin coffees.

The seven single origins are the Brazil, Guatemala, Costa Rica, Ethiopian Yirgacheffe, Swiss Water Kenya Decaf, Colombian and Papua New Guinea. Each of these single origin coffees have their own calculated roasting timing and temperatures that lead to unique flavor profiles.

The seven blends are the Espresso, Tegrey House Blend, Tutti Frutti, Ah Nuts, Coffee just for the Holidays, 1/2 Calf and the Balanced Bean. Each blend is a combination of two or more of the single origin beans listed above. Some are roasted dark and others are roasted medium and light. Each blend carries the notes of the single origin coffees that it contains. If you know which roasting style you prefer (dark, medium or light) you can use that as a way to choose which blends you would enjoy the most. Although, we've found that with our coffees, many of our customers are realizing that they enjoy different roasting styles than they originally thought. Another reason that our sample pack is the way to go, if you're looking to try out new and interesting flavors!


The variations in our sample pack make it very popular with our customers. Consistent feedback that we've received revolves around the fact that people genuinely enjoy getting to try 14 different expertly roasted coffees and picking which one of them is their favorite. Typically, once they decide, customers end up purchasing their favorite coffee on a subscription basis so that they never run out of their favorite coffee. 

The sample pack is also a great gift idea for anyone you know that is a coffee lover. Whether they are a coffee fanatic with their own grinder and espresso machine or someone just looking for anything other than cheap k-cup coffee to put in their mug, our sample pack is a flavor adventure that will help them choose which type of coffee is their favorite.

We can send your sample pack as whole beans, for those of you that have coffee grinders, or we can make sure that we grind the beans to your specifications. We have different settings based on whether you plan on using a reusable k-cup or a regular drip coffee maker, just let us know which you prefer during the checkout process and we'll get you taken care of.

As this year comes to an end, we want to take a few extra moments to say THANK YOU to all of our loyal customers that come back month after month to buy coffee from us here at Cherry Blend. We appreciate you, and wish you nothing but health and happiness in the year ahead.

Curious about our beans and blends? Here's a list:
Single Origins
Brazil

Colombia

Costa Rica

Guatemala

Ethiopia Yirgacheffe

Ethiopia Swiss Water Decaf

Papua New Guinea
Blends
Ah, Nuts! Dark Roast

Balanced Bean

Coffee Just for the Holidays

Espresso

House Blend

Tutti Frutti

1/2 Caf