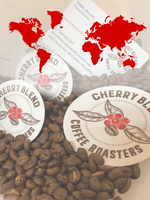 Cherry Blend Coffee Roasters brings you six single origins from around the world. We have Ethiopian, Brazil, Costa Rica, Kenya Guatemala, Colombia and Papua New Guinea coffees always available for you. Our coffees come from Balzac Brothers Importers in Charleston SC. Owned by the Great Granddaughters of the original owners that started the business in 1917! The coffees they provide are top notch, very high in quality, and their Service is impeccable. Their goal is to provide the highest quality, sustainable, green coffee possible. 
     Our Ethiopia GEDEO is a Grade 1 Organic Arabica coffee. It is a washed coffee with notes of Lemon, blueberry, orange, rose melon with a tea-like finish. A Light / medium roast. The agricultural group Aman, works with the coffee communities providing post-harvest training and health benefits to its employees creating a thriving community. Grown at 1770-2200 meters above sea level provides the complex fruit- forward taste notes that we look for and love in Ethiopian coffees.
     Our second single origin coffee is the Antigua Guatemala. A strictly hard bean fully - washed coffee from Transcafe. Notes of Strawberry, cherry, cantaloupe, apple sauce and pecan pie. Balzac Brothers has worked with Transcafe for over 50 years!  Building a strong relationship while maintaining relationships with smallholder farmers across Guatemala. Grown at an elevation of 4700-4900 feet above sea level and consisting of 60% Bourbon and 40% Caturra and Catuai varietals. It is sun-dried on patios resulting in superior coffee with extreme complexities.  
     Next is our Ciudad Colombia, Antioquia, Colombia. A fully washed, dried on raised beds and a single-farm coffee. Notes of grape, mandarin orange, lime and honey. Grown at 1600-2000 meters above sea level. This coffee possesses a pronounced citrus fruit character, natural sweetness and pleasant creamy body.  
     Papua New Guinea is from the Waghi Valley, Jiwaka Province. It is a washed coffee from the Sigri coffee estate. Notes of green apple, honey, peach, pecan, melon and a star fruit acidity. Grown above 5,000 feet above sea level. Using precisely managed shade trees to promote even coffee ripening, improved quality and a diversified wildlife habitat. The estate with other locals is home to 90 species of birds. The seeds from here originated from the Jamaica Blue Mountain variety planted here many years ago. This coffee is wet processed then sun dried. The final cup is medium bodied, layered with tropical fruits and soft lemon acidity that finishes with milk chocolate and spice notes.  
     Costa Rica La Pastora a strictly hard bean coffee fully washed from Coopetarraza. Notes of chocolate, orange, dates and tangerine. Grown at 1450-1500 meters above sea level. The CoopeTarrazu coop is made up from 8500. Partners and associates in San Jose. The organization values their solidarity and sustainability that prioritizes the welfare of its associates, their families and communities. They provide for 25% of the coffee's National production.  
Our Brazil, Fazenda Dosalto from Sul de Minas, Minas Gerais Brazil. A  Rainforest Alliance-Certified coffee comes from a single farm near Carmoda Cachoeira.  Grown at an altitude of 1080-1140 mass. Naturally processed with varieties of yellow bourbon, Mundo Nova ,catual, Icatu.  Notes of buttery, caramel, hazelnut and a  brown sugar finish. 
 We know you will find the coffee for you at Cherry Blend Coffee Roasters.