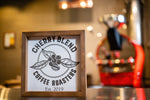 At Cherry Blend Coffee Roasters, our best whole bean medium roast coffee could be our Costa Rican Tarrazu. 
Brought in from a Region that accounts for 25 percent of this country's coffee production, CoopeTarrazu is a Costa Rican cooperative made of over 3500 partners and associates in the Province of San Jose. CoopeTarrazu prioritizes the welfare of its associates, their families, and communities by providing hands-on technical assistance and investing in solutions to combat challenges like coffee rust.  
Our coffee beans are cultivated at an elevation of 1200 to 1900 meters above sea level. Differences in elevation can affect the size, shape, and taste of the whole bean, which in turn affects the flavor of the coffee. Our whole bean Costa Rican Tarrazu is harvested from November to March, and carefully medium roasted to create a fruity aroma that fills our roastery.  
This region's dry season gives the locals the unique ability to process the coffee by drying it in the sun, which contributes to the coffee's uniformity and maintains the integrity of the bean. The sun-drying process our Costa Rican Coffee Beans go through includes being dried on raised beds in the Sun.  
Raking the beans during the day and covering at night or during rain, for 3-6 weeks. The belief is that the slower sun-drying process allows the coffee seeds to be exposed to the cherry longer thus allowing for a more full body and fruity flavor. Our Whole Bean Medium Roasted Costa Rican coffee beans have notes of Chocolate, Orange, Dates, and Tangerine. 
The area, elevation, and dry climate this coffee is grown gives it unique properties and allows us to roast this whole bean coffee at a medium roast. We consider this roasting process a "City Roast". Our Roasting is based on time, temperature, and fuel. We keep a very close eye on all three of these factors and use them to obtain our goal, which is a perfect roast.