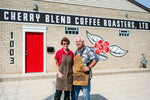 What is coffee for the Holidays?  For Cherry Blend Coffee Roasters, we believe any occasion is a holiday. Whether it's your birthday, Christmas, a wedding, or just waking up to another great day, it can be a holiday.  We strive to celebrate every day as a being special.   
       Our special blend that makes up the coffee we call " Coffee just for the Holidays", includes Papua New Guinea, Ethiopian Yirgacheffe and Colombia.  Each of these coffees bring special notes to this awesome coffee. The Papua New Guinea is grown in clay and volcanic ash that includes a special sweetness to it.  The Ethiopian Yirgacheffe has the lemon, blueberry notes and the Colombia brings in the grape, lime and honey notes!  All in all, this is a special coffee that is fun and taste great!  We always say this is the perfect coffee for Grandma's Apple Pie!  Not too strong yet perfect for the apple, cinnamon, flavors you want from her home baked apple pie!  
      Sharing this coffee over a nice conversation and Grandma's Apple pie is amazing!  Bring this to your next family and friends gathering and you'll be the highlight of the party!
     A light-medium roast that is delightful, smooth tasting and perfect for the desert you love is always available anytime of the year.  After all, as we stated before, the holiday you celebrate can be anytime you want it to be.  Just break out the Coffee known as Just for the Holidays and make everyday your holiday!