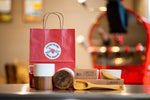 At Cherry Blend Coffee Roasters, we are prepared for tomorrow.  If you notice the trend of not having products available and not knowing if it will be available tomorrow, we have decided that we will always have our coffees available anytime you want them. We work with Balzac Brothers Importers in Charleston SC.  A fourth generation business, owned and run by four fabulous women who happen to be the Great Granddaughters of the original owners Ralph and Richard Balzac! 
     We purchase our coffee in advance and it is stored in humidity controlled warehouses just for us!  Whenever we need our coffee it is available and ready for us.  We carry enough coffee in our roastery for a few months at a time.  Running out of coffee is not an option for Cherry Blend Coffee!  We have the capability for roasting 5,000 pounds or more each week.  We actually roast small batches and only what we need each week.  Small batches stored for only a few days at a time.  Thus fresh coffee each time you purchase it!  Fresh coffee beans are essential for brewing great tasting coffee.  The moisture of about 11% is maintained in our humidity controlled roastery environment.  We maintain this humidity controlled environment through new equipment installed and maintained in the roasting area at Cherry Blend Roastery.  We are dedicated in providing the best coffee beans possible at the right humidity and roasted to perfection.
      Prices at Cherry Blend Coffee Roasters has been the forefront of our business.  We always provide the best prices possible for our clients.  Being a Roaster only, we do not carry a lot of expensive equipment for making cups of coffee.  We do not add various additives to our coffees which drive the cost up and deteriorate the actual taste of coffee.  We only provide the best roasted coffee beans possible.  High grade, sustainable, direct trade coffee beans provided by the best importer possible.  Our prices for the coffee beans we provide are some of the lowest around.  The quality and service we provide are offered through the 26 years of business we have enjoyed.  As always, our doors are always open for suggestions, questions and concerns.  Feel free to contact us anytime and remember, we are here for you!