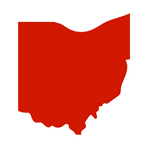 Alright fellow Ohioans… be honest. Have you ever been traveling and just woke up CRAVING something you know for a fact you can't get anywhere else…
Other than in the O-H?
Despite people making jokes about how the only things Ohio is known for are the "Hell is Real" Sign on highway 71 and Grandpa's Cheesebarn, Ohio has so much more to offer than that. After becoming the 17th state back in 1803, Ohio quickly grew to become seventh most densely populated state in the country.
This drastic increase in population resulted in a mixing pot of cultures, especially from different regions around Europe. From German and Belgian to Slovak and Hungarian, people from both the eastern and western sides of europe flooded into Ohio, bringing their amazing food and culture with them.
Today, we wanted to share some delicious foods, treats and drinks from this great state and give credit where credit is due.
Slyman's Corned Beef - Cleveland, Ohio
No matter how hard you try, chances are, you won't be able to take a full bite of one of these mile-high sandwiches. Slyman's corned beef on is a Cleveland staple. The iconic downtown restaurant often has a line out the door at lunchtime
The Polish Boy - Cleveland, Ohio
The Polish Boy is widely available throughout Cleveland. This Keilbasa and Coleslaw sandwich is a classic in Northeast Ohio and is most notably (atleast for us) served out of the Seti's Polish Boys Food Truck.
Norka Soda - Akron, Ohio
The NORKA Beverage Company was founded in 1924 by Albert J. Schumacher and his wife, Helen, who started the company in their basement in Akron, Ohio. They were sold through home delivery and soda fountains throughout Northeastern Ohio until 1970, when they became widely available at retail stores.
Klondike Bar - Columbus, Ohio
The Klondike Ice Cream Bar was invented in Ohio by dairy farmers who wanted to create an ice cream treat that could be eaten with one hand. The Olympia Candy Kitchen produced the ice cream bar originally; however, now it is produced by Breyers Ice Cream.
Skyline Coney Dog - Cincinnati, Ohio
A true Skyline Coney is covered with Cincinnati chili, a sweetish spiced meat sauce based on a Greek recipe brought to Ohio by Macedonian immigrants in the 1920s. There are many different "ways" to order this dog. A "two-way," which is includes chili and cheese, a "three-way" which adds either onions or beans and a "four-way" includes all three toppings, while a "five-way" adds chopped raw onions.
All of these amazing food and drinks from our own backyard inspired us to display our passion for Ohio by developing our very own Ohio Proud blend of coffee. This gorgeous medium-dark roast coffee has notes of Milk Chocolate, Caramel and Peanuts! 
No matter how far your travel, there's nothing quite like the taste of home. 
Want to take Ohio with you wherever you go? Brew a fresh cup of our Ohio Proud Coffee anytime! 
Check out our latest
comic strip
to see who else is loving our coffee!