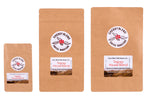 This month's flavor of the month is the Cherry Blend House Blend. The House Blend is a tribute to Terry and Peggy's painting business of 23 years. Taking care of customers for the past 23 years means that we understand what it's like to have a long day at work. That's why we decided to combine our two darkest roasts, with a lighter roast to give this blend a bold flavor with a caffeinated punch. This blend has chocolate, strawberry, cherry, blueberry and lemon notes.
We love telling stories about our coffee and where it comes from. The House Blend is a balanced mix of our Brazil, Guatemala, and Ethiopia single origin beans - each of which has a unique story. If you have a few minutes to spare in your day, and you're interested in learning something new about coffee, this blog is for you!
The Brazil
Dr. Fabio Araujo Reis, owner at Fazenda do Salto, works with his two sons and daughter to run their family farm in the Sul de Minas region of Brazil. Andre and Juca, Fabio's sons, work with 35 employees, many of whom grew up near the farm and later chose to return to Fazenda do Salto after finishing school. Here, coffee is harvested mechanically and dried on 8 rotational machines and 8 static layer dryers, which maintain constant airflow with a combination of cold and warm air. Initially, the coffee dries in static boxes for 12 hours during pre-fermentation.
Cold air is then utilized to dry the cherries for four days before switching to warm air for three additional days until moisture content reaches 15 percent. For the final drying phase, the coffee is exposed to intermittent warm and cold air every 12 hours until it reaches 11 percent moisture. Then it's packaged up, and sent to us!
The Guatemala

The famous ancient city of Antigua's contains over 43 churches, so it is not surprising that this special coffee gets the brand "Iglesias."
Antigua Iglesias comes from the Plantation Santo Tomas and El Vallecito. Both are located in Ciudad Vieja in the state of Sacatepéquez at the slopes of the Volcano Agua. The coffee grows under Gravilea trees in rich volcanic soil.
Consisting of 60 percent Bourbon and 40 percent Caturra and Catuai varietals, this coffee is grown at an elevation of 4,700 to 4,900 feet above sea level. After harvest, Iglesias, a shade-grown coffee, is harvested and brought to Transcafe's mill Concepcion, Escuintla. During the coffees' time at Concepcion, it is sundried on patios and separated by size, density, and color. 
The Ethiopia

Aman Adinew, CEO of METAD agricultural group, is the type of person whose infectious enthusiasm commands an entire room. With his agricultural group, Aman works to influence Ethiopia's coffee communities and their partners in consuming countries across the world. METAD owns Africa's first Specialty Coffee Association (SCA) certified quality control lab and the company provides post-harvest training and health benefits to its employees.
This coffee comes from Gedeb in the fertile Southern Nations, approximately 437 kilometers south of the Ethiopian Capital Addis Ababa. Here METAD operates a washing station and dry mill, employing 28 permanent staff and 700 seasonal employees between this station and their partner station in Hambela. Seventy percent or more of these staff members are women, plus METAD partners with over 700 growers to provide best practices on growing, harvesting and selling coffee
Common preparation styles:
Drip

French Roast

Aeropress

Pour over

Espresso
** Freshness **
Whole bean coffee normally maintains its freshness for about two months.  Ground coffee usually is best if used within two to three weeks.
Try Cherry Blend House Blend Coffee!